Contract manufacturers that offer Hygroscopic production capabilities demonstrate a serious commitment to the craft and customers. For instance, one of the most popular and established nutraceuticals in the United States also happens to be one of the most difficult to produce.
SAMe (s-adenosyl methionine) was discovered in the human body nearly 70 years ago as a naturally-occurring molecule composed of essential amino acids that aid in the activation, metabolism, and synthesis of hormones, neurotransmitters, nucleic acids, proteins, and phospholipids.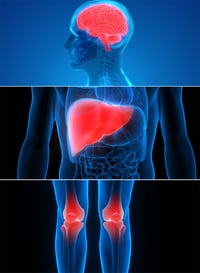 In other words, it's pretty much in the middle of everything important going on in your body right now.
Once researchers determined how to manufacture the compound, SAMe became an early "super-star" dietary supplement. In the US alone, over one-third of Americans suffer from chronic joint pain, mood issues, and digestive conditions. A three-fold benefit is provided by SAMe to support healthy mood, joints, and liver.
So if SAMe is such a rock star, why aren't more companies manufacturing it? As with so many things, the "devil is in the details." SAMe can be expensive to produce and is highly unstable in raw form due to its hygroscopic nature.
Contact with moisture causes these materials to degrade and become unstable. Therefore the capability of your contract manufacturer to properly handle, manufacture, and package hygroscopic compounds is vital to the stability and effectiveness of the product.
3 Keys to Hygroscopic Stability:
Think Foil
Plastic material blister packs or bottles have the potential of exposing the product to moisture, depleting the active material. Foil protects them from the air and humidity, both of which will cause the tablets to break down and begin to lose their potency.

Look for enteric coating
Enteric-coated tablets are designed to protect the tablet to allow it to reach the intestinal tract, instead of breaking down in the stomach. This process can also protect hygroscopic material from moisture exposure.

Choose tablets
When it comes to hygroscopic material, tablets are superior to capsules. Bottled tablets, produced in a tightly controlled environment and enteric-coated, retain potency almost as well as tablets in blister packs.
Your manufacturer is also your partner. When you grow, they grow. If you have a hygroscopic compound, choosing the dietary supplement manufacturer that maintains a pharma-grade, FDA-registered facility is a step in the right direction but difficult to find. Vesta Nutra also is a cGMP certified manufacturer.

If you have a tricky manufacturing challenge, or have discovered your current contract manufacturer is not up to the task, contact Michelle Mumbower, Vesta Nutra's sales representative for contract manufacturing at 888-55-VESTA or via email at michelle@vestanutra.com.