Flu Season is here. And so far in the Americas at least, it's shaping up to be a pretty devastating one. With the 2017-2018 flue season notched in history as one of the most deadly in decades, one can only hope the 2018-2019 season will level off soon.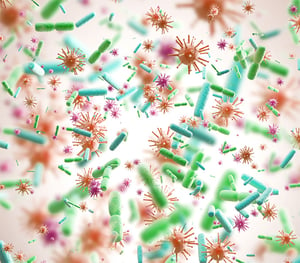 Beta glucan is consumed and digested
to stimulate the immune response.
Recent increases in Flu deaths among an educated society in the middle of a growing economy and plenty of available vaccine options is puzzling. That may be an important reason the dietary supplement industry's focus on solutions that can boost immunity is growing as well.
The emergence of beta glucan as an ingredient to boost the immune system is a great weapon for those, especially over 50, who are at greater risk for becoming infected.

When beta glucan is consumed, key immune cells called Neutrophils and Macrophages are activated. The primed immune cells expands in number to quickly find and remove pathogens from the body.


While beta glucan's reputation as an immunity booster is well-established, there are additional health concerns that the dietary supplements industry are using the product to market its efficacy. Here are four additional trends emerging today:
1. Cholesterol
According to a 2011 report from Nutrition Reviews, oat-derived beta glucan may significantly reduce levels of total and LDL ("bad") cholesterol. On average, the authors note, daily oat consumption is associated with significant reductions in total and LDL cholesterol levels.
2. Diabetes
A 2008 research review from Vascular Health and Risk Management suggests that dietary intake of beta glucan may help control blood sugar levels, and blood pressure levels, a truly unique combination.
3. Cancer
Beta glucan may activate a number of cells and proteins that fight cancer (such as T-cells and natural killer cells). What's more, tests on animals have shown that beta glucan may inhibit the spread of cancer cells. However, a 2009 report in the Journal of Hematology and Oncology cautions that there are "no good quality clinical trial data" for the effectiveness of beta glucan in treating cancer.


4. Stress
In a 2004 study from Medicine and Science in Sports and Exercise, for instance, tests on mice revealed that beta glucan may offset the negative effects of exercise-induced stress and increase the immune system's defense against upper respiratory tract infections.
We have developed a clinical whitepaper that provides a deep dive into the benefits of the Vesta Nutra's version of the beta glucan called Beta ImmuneShield-85D™ (Beta Glucan 1,3 D).
To find out more about Beta ImmuneShield-85D™, contact Valerie Saum via e-mail at valerie@vestanutra.com, or by dialing 888-55-VESTA (888-558-3782). She can provide details and insights into the potential for inclusion into a finished product or product line.