It seems almost every business is getting into CBD products. They are even found at your local video rental store or gas station. Are CBD supplements legal? Are they effective? How can your company benefit from this substance without getting a warning letter from the FDA?
CBD, or cannabidiol, products should be sold with less than 0.3% THC which is the intoxicating substance in marijuana. Most CBD products are sourced from hemp and can be found in liquid tinctures, gums or gummies, and even topical products. Consumers are reporting a wide range of benefits, many of which cannot be legally claimed on non-pharmaceutical products. These consumers say that CBD helps with inflammation, anxiety, and pain management among a long list of other complaints.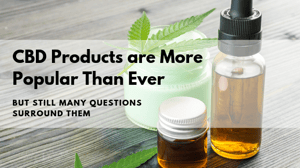 The FDA has not made a decision on the legality of CBD in food and food products, which include dietary supplements. Products containing CBD should not state that they are dietary supplements or food products; this is not a legal claim. These products should still follow current Good Manufacturing Process guidelines, including refraining from making health claims, reporting that the FDA has not reviewed any statements, and using accurate labels that list the amount of CBD per dose. Vesta is able to discuss your label with you one-on-one to give our best advice on how to confidently market your product.
Should you get in to the CBD game? That can be hard to decide. However, the market has spoken and new cannabidiol retail products are being released and purchased every day. Give Vesta a call today to see what options are right for you.