If your next or current project is targeting low energy, cardiovascular issues or free radicals then you need to take a minute to read this!
As we age, the number and capacity of our mitochondria decrease. You're probably wondering what mitochondria are, right? Mitochondria are like batteries for the body. If you are running low, your energy levels will show it!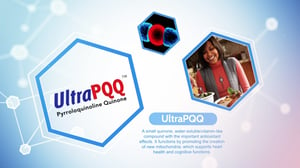 We want to tell you about PQQ. Pyrroloquinonline quinone is a water-soluble, vitamin-like compound with many health benefits. First and foremost, it recharges those mitochondria batteries, bringing up your energy levels. Mitochondria generate over 92% of our bodies energy use for daily functions.
Secondly, it supports heart health. Studies in animal models show that the usage of PQQ as a single agent remarkably improved mitochondrial respiratory ratios in ischemic conditions. (Zhu, B et al. Journal of Cardiovascular Pharmacology and Therapeutics. 2006) If it is producing increased mitochondrial activity, then it has to be helping your heart!
Third, PQQ is a powerful antioxidant. Antioxidants are important for protection from damage on a cellular level. The brain is more susceptible to this damage since the antioxidants that neutralize the free radicals have reduced levels in the brain. PQQ is the leader among antioxidants. Studies conducted with primary, patient neurons have shown that PQQ significantly reduced oxidation status and had a neuroprotective effect.
Scientists leading a study on PQQ noted that it holds great promise, similar to resveratrol, genistein, hydroxytyrosol, quercetin and other compounds that can induce mitochondrial biogenesis.
Now, if you are considering PQQ as an ingredient that will make your pill pack a punch, let Vesta be your cornerman! Vesta Ingredient's UltraPQQ™ is greater than 98% pure, made with natural fermentation. It is non-GMO and vegetarian friendly.
Want some even better news? It is available as a private label item right now! Low MOQ, very fast lead time and super low prices.