Today we're sharing the second episode of our "QuickTour" Series that provides a behind-the-scenes peek at different aspects of Vesta Nutra's advanced contract manufacturing operations. In today's video, we're introducing you to a quick view of our automated blister packaging and boxing operations.
Our highly-trained employees are there to oversee a process that can quickly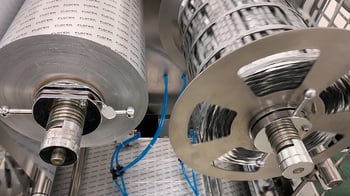 and accurately package tablets and capsules into aluminum or PVC blister cards. These can be sealed with custom-printed aluminum foil. The finished cards to be neatly packaged into retail containers. This recent investment reduces our customers' lead time and overall costs, allowing their product to be on shelves and priced more competitively than competitors who utilize slower machinery or "by hand" packaging work.
Questions or comments? Please add them in the comments area below.
Do you a have a complex manufacturing challenge you need help solving? Steve Stout, Vesta's senior sales representative for Contract Manufacturing projects, can assist you with virtually any aspect of bringing your product to market. You can reach him at steve@vestanutra.com or call 888-55-VESTA.